The TEN YEAR CHALLENGE for your eyes!
If you are in your 30's and 40's, chances are you have noticed you are getting older. One of the first things people notice is blurry vision. While it may be subtle and we can compensate at first – it does not go away. This is not a fun fact- it's a sign we are getting older- but why is this happening?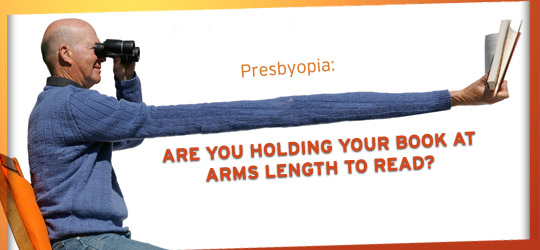 The most common cause for increased blurriness is presbyopia. A Greek term that literally means "old eyes". Traditionally this popped up in our 40's but with smartphones becoming such a necessity patient's in their 30's are noticing issues.
What is presbyopia?…First some definitions:
The Cornea is the clear dome on the front of the eye. This is the part of the eye that a contact lens rests on, it is the part of the eye that LASIK treats and it does the majority of the light bending so we see well.
The Lens is about the size of a skittle candy – it is clear and also helps focus light so we can see well. It has a tiny bit of flexibility so you can actually adjust your focus from far away to near. Like a built-in autofocus. As you age the lens becomes more rigid, this is a NORMAL sign of aging.
The Ciliary Muscle surrounds the lens. When this muscle relaxes and contracts it will adjust the focus of the lens, helping us see near and far.
Presbyopia is caused by decreased flexibility of the lens and loss of strength in the ciliary muscle. It can be seen in certain medical conditions. Certain medications can impact presbyopia as well.
How can this be treated?…No treatment is perfect.
Naturally, people would think if it is the result of muscle weakness then exercises will help. This is the basis of the "Bates See Clearly method" developed by an ophthalmologist. To date, there has been no scientific study to support this treatment. But since there is relatively little risk, we will often have patients inquire about doing this. Our response is often "it does no harm". Some patients will try this for a few months but within a year, nearly 100% of patients will purchase a pair of progressive lenses.
Progressive lenses are glasses that may have a prescription to help you see well at distance with an additional "booster lens" to help you see a computer, smartphone or book. This provides the most natural vision in patients with presbyopia. These are often made of Trivex lens material to help you see your best and a blue light filter. Examples of these lenses are EYEZEN glasses, VARILUX Lenses, UNITY lenses or TRUCLEAR lenses.
Multifocal contact lenses rest on the cornea and help focus light so patients can see near and far. The latest contact lenses work very well for most patients. Multifocal contact lenses allow patients to be able to drive, see a menu and attend events without worrying about eyeglasses. Some great contact lens designs come from ALCON, FRESHDAY contact lenses, Bausch and Lomb, ACUVUE.
A surgery that is gaining popularity is the KAMRA inlay. This is a miniature ring with a small opening in the center. It is placed within the cornea. It is so small that it weighs the same as a grain of salt. It is placed in just one eye.
If you are due for your ANNUAL EYE EXAM, want an evaluation for blurry vision, are interested in contact lenses or KAMRA inlay please call our office for an appointment 253-220-2563.