How can a healthy person lose vision & not know it?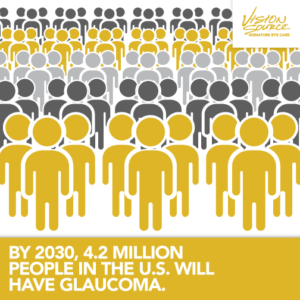 How can a healthy person lose vision & not know it?
Unfortunately, this can happen if you have un-diagnosed GLAUCOMA. It is one of many reasons why regular eye exams are important, even in patients who feel they "see fine". Glaucoma is defined by the American Optometric Association as "a group of eye disorders that lead to progressive damage to the optic nerve. People with glaucoma can lose nerve tissue, resulting in vision loss". The vision loss in glaucoma is not reversible.
There are several different forms of glaucoma. Glaucoma is not contagious but it does run in families. Sometimes glaucoma can be associated with secondary conditions including surgery, certain medications, or it can be seen years after blunt force trauma to the eye. The most common form of glaucoma, Primary Open Angle Glaucoma, has no definitive known cause but theories exist. The two most widely accepted theories include the idea that a fluid needed to circulate within the eye "backs up" because the eye's drainage system becomes less efficient with time. The back up leads to optic nerve damage. Another theory suggests that inadequate blood flow to the optic nerve damages the optic nerve. The true cause is likely a combination of factors. One of the researcher/ophthalmologists Dr. Meers worked under while at the Bascom Palmer Eye Institute, Dr. Douglas Anderson, was a pioneer in glaucoma research and optic nerve head evaluation.
It's not just pressure.
Making sure you have your eye pressure (tension) accurately measured is important, but it's only part of glaucoma diagnosis."Normal" pressure is generally considered a number between 11 and 22 mmHg. BUT In Dr. Anderson's clinic at Bascom Palmer where Dr. Meers worked There were cases of glaucoma termed low tension where the eye pressure was considered normal but patients still went blind AND there are patients who had pressures well above 22mm Hg who were examined for decades and suffered no detectable vision loss.
Glaucoma is a confusing diagnosis so it is very important to be sure you are cared for by a doctor who not only knows what testing should be done but they also need to know how often it should be done and what to do when abnormalities are encountered. They need to know the "standard of care".
At the time of this blog post there is no blood test for glaucoma, the 5 common tests that are needed to detect glaucoma are:
GONIOSCOPY
This test is highly specialized and requires a purpose built piece of equipment – the gonioscope – it helps an optometrist trained in gonioscopy to evaluate the eye's drainage system.
TONOMETRY
Preferably the Goldmann Tonometer – not the "air puff". This should be repeated at different times of the day to develop a clear picture of a patient's eye pressure.
PACHYMETRY
A quick, painless test to measure the thickness of the front part of the eye (the cornea). Corneal thickness impacts eye pressure readings.
DILATED OPHTHALMOSCOPY
A dilated eye exam using eyedrops to widen the pupil (and temporarily blur vision and cause light sensitivity) is needed for a person trained in optic nerve head ophthalmoscopy to assess the optic nerves in "real time" conditions. A digital photo is not enough.
PERIMETRY
Perimetry refers to a sophisticated, automated test to check your side vision. It maps your peripheral vision. Often this test needs to be performed several times for a diagnosis.
Glaucoma is not a simple diagnosis to make by even the most seasoned specialist. Often glaucoma has no symptoms until a person has significant, irreversible vision loss.
Fortunately glaucoma tends to progress slowly. If detected there are a number of non-surgical treatments we can perform at Tacoma Eye. If surgery is ever needed, we have the ability to co-manage and get second opinion from well respected specialists in Tacoma and throughout the west coast.
It is our belief at Tacoma Eye that all patients from age 6 up should have regular eye exams. If there is any suspicion after an initial exam that a patient has glaucoma we can perform all of the tests outlined above.
Patients most at risk for glaucoma include patients who:
Are age 60 and above.

Are age 40 and above in patients of African decent.

Patients of African decent are more likely to suffer from Open Angle Glaucoma while patients of Asian decent are more likely to develop Closed Angle Glaucoma.

Patients with a family history of glaucoma.

Some reports correlate hypertension and diabetes with glaucoma
Schedule your appointment at Tacoma Eye by calling 253-220-2563 or visiting schedule online.